Rock Code
---
---
---
---
Rock Code - Brazilian Fitness Style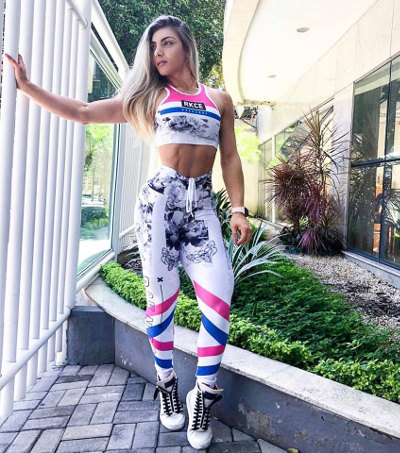 Leave everyday looks behind with Rock Code leggings
Inspired by urban art and rock-and-roll culture, this style reflects the very DNA of Brazilian designers. Ready to break the rules, to embrace change and to try out new ideas in this crazy universe. Ready to fall and then stand up even stronger. Here, it is not merely blood, but also creativity which flows through the veins. Rock Code is not about following fashion, but about creating a style! This is not just sportswear, but rather a collection of breath-taking works of art. If you are constantly on the look-out for eye-catching and extravagant highlights to show off your body to even greater advantage, then allow yourself to be infected by the virus of creativity. Secure maximum points in the categories lifestyle, style and extravagance.
---
Label infos
Rock Code history
The Rock Code style
Brazilian quality
Finding your size - for a perfect fit
Order Rock Code online
Rock Code history
Rock Code is a Brazilian company founded in 2011. It stands for exclusive, high-quality fitness gear with unique style. The designs are conspicuously different from the usual European look and immediately stand out in a crowd. The typically South American style and flawless manufacturing are trademarks of the label. Designed near Sao Paulo and loved all over the world, Rock Code products are today practically synonymous with fitness fashion. Even so, the young Brazilian company continues to grow at a dynamic pace and brings a constant stream of brand new designs to the market.
The Rock Code style
You are not a fan of plain unicolour sweatpants or boring stripe patterns? You are looking for something unique which no-one else at the studio is wearing? Then Rock Code is just the place for you. Stylish and extravagant fitness gear with graffiti designs and bold prints. That's rock and roll! With your new Rock Code leggings, you can add a touch of South American style to your wardrobe, and are guaranteed to turn heads at your gym. But it is not only the unique look, but also the high-quality manufacturing and functionality which characterise the label.
Brazilian quality
All Rock Code products are made at home in Brazil. Great importance is attached to the quality of the materials and manufacturing. Even if this may mean that the price is slightly higher compared to products from Eastern Europe or Asia. The principal material used for most Rock Code leggings is polyester. One key property of clothing made from artificial fibres is the ability to transport moisture away from the body. Your skin remains pleasantly dry. Polyester is thus an ideal material for fitness gear, though Rock Code leggings are naturally also perfect wear for all everyday situations. In most cases, the fantastic prints are applied by way of sublimation printing. The colours are transferred to the fabric in a special thermal process. This means that your leggings can be washed countless times, without risk of the print cracking or becoming porous.
Finding your size - for a perfect fit
Many Rock Code leggings are available in one standard size. They are extremely elastic, however, and thus cover several of the familiar European sizes. The standard size corresponds to the European sizes S (small) and M (medium). If your size lies in the border range between XS and S, then the standard size should also fit. It is not recommended for wearers of European size L (large). Rock Code leggings are not excessively long and are thus also well-suited for shorter women and girls. 
Buying Rock Code fitness gear
Our online store presents a broad selection of the trendiest fitness labels, which naturally includes Rock Code. All products are available directly from our German warehouse and can thus already be shipped within 24 hours. Just right for spontaneous decisions. Order today and wear your new leggings to the gym tomorrow. It goes without saying that Rock Code products can also be shipped abroad to most European countries. Experience the quality of South American design and allow yourself to be inspired by Brazilian style. Order your new Rock Code outfit today, and show the world that, while unicolour leggings may indeed be attractive, they are certainly not the measure of all things in fitness fashion.